Christian McBurney returns to the Varnum Memorial Armory Museum to speak about his newly-released book, "Untold Stories from World War II Rhode Island". This is a sequel to the 2017 book ("World War II Rhode Island") that he co-authored with the Varnum Continental's own Brian Wallin.
The new publication shares long-forgotten stories, from amazing secret innovations that were developed in the Ocean State for use by the armed forces overseas, to the training of future U.S. Presidents here in RI, and to recollections of Rhode Islanders when they were children or teenagers during the war years. Christian will be available to sign copies of the book after his talk.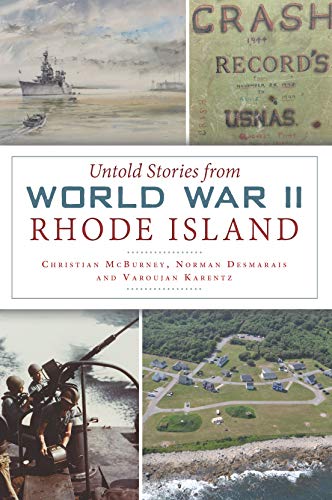 Christian McBurney, is the editor and publisher of the website "Small State, Big History", the online review of Rhode Island History.
RSVP by 6:00 pm Friday, December 6 to Scott Seaback at 401-413-6277 or by email at scott@ritemps.com.
PLEASE NOTE: Reservations for dinner are mandatory and MUST be received by the RSVP date above. NO WALK-INS ALLOWED!
MEETING DATE: Monday, December 9.
TIME: 5:30 pm (social hour); 6:30 (dinner followed by program)
LOCATION: Varnum Memorial Armory Museum, 6 Main Street, East Greenwich, RI
DINNER MENU: Steak tips, baked scrod, twice baked potatoes, creamed spinach, salad dessert & coffee.
FEE: $20/person
---
Join the Varnum Continentals for $35!
At only $35 per person annually, membership keeps you in the Varnum loop and supports our efforts to preserve U.S. history and educate the public. Members get a monthly newsletter and can also attend our monthly dinner programs that feature authoritative and engaging speakers on historic and military topics. CLICK HERE TO JOIN NOW!
---
---
Make a Donation!
We're a private nonprofit organization receiving no state or federal funding. We depend on your donations to support out valuable work to preserve U.S. history and support our two museums. MAKE A DONATION TODAY!
---