Both the Varnum House Museum and the Varnum Memorial Armory Museum are available for tours!  Each facility offers it's own unique exhibits on early American life and society.
Varnum House Museum (1773)
It was 1773 when James Mitchell Varnum purchased a large plot of land overlooking Greenwich Bay in East Greenwich, RI, for the sum of $90.  As a prominent figure in the Revolutionary War and early-American politics, Varnum attracted a "who's who" of guests to the mansion built on this land, including George Washington, Marquis de Lafayette, Rochambeau, John Sullivan, Nathanael Greene, and many others.  Containing numerous historical artifacts ranging from the late 17th century through the mid 19th century, the Varnum House Museum is open format, meaning that very few exhibits are behind glass or ropes. It is as if you're touring the house as it appeared in the late 18th century!
Varnum House Museum || Tour Request
To book a tour of the Varnum House Museum, email house@varnumcontinentals.org or call 401-884-1776.
Varnum Memorial Armory Museum (1913)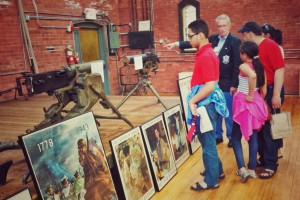 The armory serves as the Varnum Continental's headquarters and contains an extensive Military & Naval Museum which has been acquired through donation and purchase. There are ample facilities for private and public functions. It has a large drill hall (40 x 110) capable of seating several hundred, as well as a dining room, meeting rooms, a balcony display area, and several offices.  Use this form to book your tour of the Varnum Memorial Armory Museum.
---
Join the Varnum Continentals for $35!
At only $35 per person annually, membership keeps you in the Varnum loop and supports our efforts to preserve U.S. history and educate the public. Members get a monthly newsletter and can also attend our monthly dinner programs that feature authoritative and engaging speakers on historic and military topics. CLICK HERE TO JOIN NOW!
---
---
Make a Donation!
We're a private nonprofit organization receiving no state or federal funding. We depend on your donations to support out valuable work to preserve U.S. history and support our two museums. MAKE A DONATION TODAY!
---