West Greenwich native Charles Tillinghast James was a product of the Industrial Revolution who achieved fame in such diverse areas as the textile industry, politics, and ultimately, munitions. It was the latter that brought him to his end and for which he is perhaps best remembered. James was born in 1805. From humble beginnings as a carpenter, he became a largely self-taught machinist and engineer. In a state as small as Rhode Island, it didn't take him long to be noticed by none other than famed local industrialist Samuel Slater, who took him under his wing. Before long, James was propelled into financial success in setting up and operating steam-powered mills throughout New England. He then tried his hand at politics and served in the U.S. Senate from 1851 to 1857 as a member of the Democratic Party. During this period, he also became active in the Rhode Island State Militia and was appointed as a major general.
Here's where his story turns really interesting and the Varnum connection eventually comes in. Prior to the outbreak of the Civil War, the United States Army relied solely on smoothbore cannon. One of the most popular was the Model 1841, a bronze six-pounder, referring to the weight of a solid projectile. (The term "pounds" is applied to the weight of shot that can be fired from a cannon of the same caliber or width of the bore, in this case 3.67".) When the smoothbore 6-pounders were rifled, the bore was expanded to 3.80". Because of that they were sometimes confused with future, heavier cannon that were designed to fire a 14-pound projectile.
Rifling a cannon barrel allowed the round to twist in flight, increasing its range and accuracy. As the Civil War loomed, it was apparent that increased range, accuracy, and the versatility of ammunition would become important and decisive factors in future battles. Because of the abundance of smoothbore weapons in the Army's inventory, a quick solution was to re-bore existing cannon such as the Model 1841 with rifling to accommodate the more sophisticated rounds being developed.
Remember that Charles James had trained as a machinist and engineer? Well, in 1856, shortly before leaving the Senate, he was granted the first of two patents (the second was issued in 1862) for "improvements to a cannon projectile." Called James Federal Pattern Projectiles, they were designed for use in a rifled cannon barrel. Functioning properly, these shells would result in added range and power. Unfortunately for James, he had a good idea but couldn't get it to work according to plan. The first variant of the James Projectile had the nasty habit of tearing the sabot lead ring from the shell during flight, resulting in friendly fire casualties from short rounds and shrapnel. The second attempt wasn't much of an improvement. Although the rounds mostly stayed intact, the projectiles caused significant wear on the rifled barrels of the bronze cannon in which they were used. To add insult to injury, the shells often failed to explode.
Despite the unpredictability of these early designs, the U.S. Army chose to use James' Pattern Projectiles in the early stages of the Civil War. The Army contracted with the Ames Manufacturing Company of Chicopee, Massachusetts, to re-bore a number of bronze six pounder smoothbores using James' design. The company had already gained worldwide fame as a maker of military swords and sabers (a number of which are in the Varnum  collection). James worked directly with the Ames Company on their early re-bores as well as a series of 3.80" bore variants, ranging up to 14-pounders. The final variation – and the most durable – was cast from iron instead of bronze.
In the early months of the war, James continued to experiment and tried to interest others in his designs. On October 17, 1862, he was demonstrating his projectiles to a group of foreign military officers gathered on Long Island. One of his workers was attempting to remove a misfire, when the shell exploded, killing him instantly and fatally wounding James himself. He died the next day. He was 57 years old. James is buried at Swan Point Cemetery.
In spite of the unpredictability of the James round, when it did work, it was with devastating results. For example, James shot and shells were used in the successful Union bombardment of Fort Pulaski on April 10-11, 1862. Larger caliber James rifled cannon were equally and effectively used along with artillery designed by Robert P. Parrott.
Nonetheless, the durability and value of the James lighter rifled cannons remained a problem. Because these bronze cannons fired an iron round, their barrels wore out after only a few hundred rounds, leading to their replacement by more durable weapons shortly after the Fort Pulaski siege. The James guns wound up being used for training purposes by Federal forces.
Among the Federalized units equipped with the early models of James cannon and projectiles was the 1st Rhode Island Light Artillery. Their batteries were among the first to be called into active service shortly after hostilities broke out in 1861. They were issued James six pounders in the Battles of Bull Run, Bolivar Heights, and Ball's Bluff. On all occasions, the James rifled cannon proved to be a disappointment, lacking in accuracy. (According to one account, a number of rounds fired at Bull Run landed unexploded some three miles from their intended target.) Batteries of the 1st Rhode Island served throughout the war and in almost every area of the country. Along the way, they were equipped with steadily improved weaponry. Among the most popular and effective was the 12-pounder Napoleon. Based on a French design, it was capable of hurling a projectile up to 1,300 yards.
The Varnum Armory collection includes a very rare and good example of a James 6-pounder cannon. The Model 1860 rifled re-bore done by the Ames Company. We also have a companion smoothbore Model 1841 cannon.
Both cannon tubes were acquired from the State of Rhode Island. The rifled cannon is mounted on a genuine Civil War era single trail carriage, acquired in 1943 with a companion limber. The smooth bore sits on a much older, double trail carriage possibly dating to the Revolutionary War Era.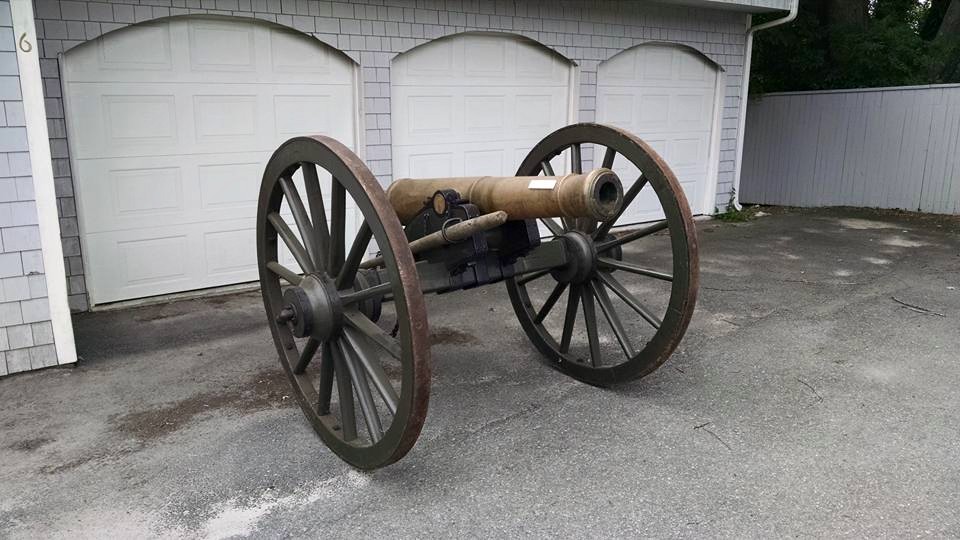 By Varnum Trustee & Member Brian Wallin
---
Join the Varnum Continentals for $50!
At only $50 per person annually, membership keeps you in the Varnum loop and supports our efforts to preserve U.S. history and educate the public. Members get a monthly newsletter and can also attend our monthly dinner programs that feature authoritative and engaging speakers on historic and military topics. CLICK HERE TO JOIN NOW!
---
---
Make a Donation!
We're a private nonprofit organization receiving no state or federal funding. We depend on your donations to support out valuable work to preserve U.S. history and support our two museums. MAKE A DONATION TODAY!
---