New technology met "the way we've always done things" in a big way on March 8, 1862, off the coast of Virginia. The old war sloop, the USS Cumberland, and four other wooden Navy sailing ships faced off against the CSS Virginia (formerly the Merrimack), the world's first steam-powered and iron-clad warship. This ship instantly made every Navy ship in the world obsolete. The Union ships were all defeated or run aground. The Cumberland was sunk.
Cleaning out one of the cases at the Varnum Memorial Armory Museum, we found this great memento from this landmark sea battle that changed naval history forever.  The painting shows the USS Cumberland on fire and being rammed by the CSS Virginia.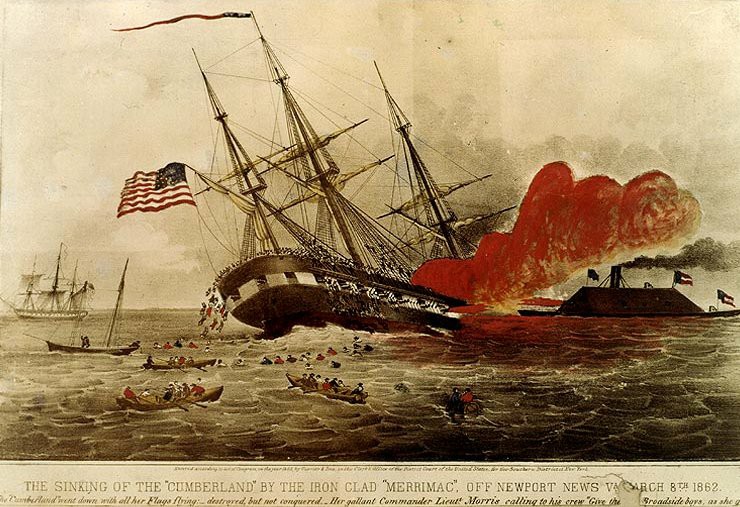 ---
Join the Varnum Continentals for $50!
At only $50 per person annually, membership keeps you in the Varnum loop and supports our efforts to preserve U.S. history and educate the public. Members get a monthly newsletter and can also attend our monthly dinner programs that feature authoritative and engaging speakers on historic and military topics. CLICK HERE TO JOIN NOW!
---
---
Make a Donation!
We're a private nonprofit organization receiving no state or federal funding. We depend on your donations to support out valuable work to preserve U.S. history and support our two museums. MAKE A DONATION TODAY!
---