By the early spring of 1945, the end of the war in Europe was in sight. The Battle of the Bulge was over and Russian troops were pushing towards Berlin. But the fighting continued on the ground and in the air. Our story this month is typical of thousands of others: a young married couple, deeply in love and separated forever by the war. As with so many, much of their romance was conducted by mail.  Army Air Force Lt. Jennis "Jack" Strickland was a B-24 pilot attached to the 445th Bomb Group, 2nd Air Division, 8th Air Force, stationed at Tibenham AFB in England. His wife, Kitty, was at home with their young son, Jennis III, with another baby on the way. They had met as teenagers in Silver Spring, Maryland, in 1938 and were married on September 1, 1941. Shortly after Pearl Harbor, Jack enlisted and eventually was commissioned as a 2nd lieutenant and sent to fly B-24s. Kitty dutifully followed him from base to base through his training until he was shipped overseas in September of 1944. In the final days before they left, Kitty and Jack managed to see each other briefly, each time not saying goodbye "just in case". When Jack and his crew sailed for Europe aboard the Ile de France, she was pregnant with their second child. Kitty stayed at home with her infant son and found employment in the Washington, D.C. area to assist in the war effort. Her book is a reflection of so many young couples whose lives were unforgettably and often permanently changed by the winds of war.
Jack immediately began flying regular missions out of England and keeping up a steady correspondence with Kitty until a fateful day in the twilight of the war. He was closing in on the magic number of missions to earn his rotation home when his unit was reorganized and he became a member of a lead crew, formed to consolidate equipment and resources in a single squadron.
The 445th was  assigned to participate in support of Operation Varsity, a major allied airborne campaign in late March of 1945. U.S. and British airborne troops were dropped into central Germany to cut off retreating Nazi forces. The 445th was tasked to conduct extremely low-level supply drops (at 300-foot altitude) using the spacious cargo capacity of their B-24s. This low level put them at risk of even small arms fire from enemy ground forces. It also meant that if the bombers were hit, there would be no chance for crews to bail out. One plane returned with burned tree branches in its engine cooling fins, the result of hitting treetops in an effort to escape ground fire. Because of the heavy loads they carried and the low altitude, the planes were also stripped of .50 caliber machine guns. Two crews from the 27 sent from Tibenham were lost that day. Jack Strickland, who had the unit's deputy base commander, Col. Carl Fleming, flying as his co-pilot, piloted one of them.
In 1998, Jack's widow, Kitty Strickland Shore (she remarried in 1950), published a memoir titled "Red Roses and Silver Wings". It is an often entertaining, sometimes poignant book much of which is comprised of the accounts of their early months of marriage, the letters she exchanged with Jack when he went overseas and her life after his loss. The final moments of his life were shared by none other than the Varnum Continental's own Tom Campbell who was flying as the co-pilot of a B-24 immediately behind Jack's aircraft.
It was conveyed in a letter he sent to Kitty when she was writing her memoir. Tom expressed the hope that his words would not open up any old wounds as he recalled the traumatic events of that day describing the loss of Jack's plane but also saying that he hoped it would help to explain the role that Jack played in the mission's overall success. Here is the story (edited for brevity) in Tom's own words:
"On the mission we were leading the whole 2nd Air Division of 240 B-24s … your husband was Deputy Head (piloting the second aircraft in the formation) with Lt. Col. Fleming, designated to take over should anything happen to the lead ship … it was a nice spring day and (we flew) over France without any worry about anti-aircraft guns … the lead ship had to be at the lowest altitude and all following aircraft few above so no one would run into the leader's supply drop… We were at tree-top level to allow reasonable drop altitude for the following flights … as we approached the designated drop area we could see a tremendous line of men and equipment all heading … towards the Rhine River … Suddenly two tall radio towers appeared (through the smoke) directly in our flight path. The supporting guy wires left very little room to maneuver … at very low altitude. I recall slipping through with one wing low to avoid the guy wires. At this point we were flying directly behind Lt. Strickland … We could feel the plane rise as we dropped the 5,000 pounds of supplies … All we had to do was make a right turn, and bank across the river (to head for home) … As we went around the back side of (a large) hill we encountered a large concentration of German infantry. All the troops began firing their rifles at the aircraft … Suddenly, out of nowhere these came up to Lt. Strickland … The(ir) slow speed and color looked like something from a Roman Candle … I could not see any fire or damage to the engines … without any indication of trouble the nose of the ship went down slowly and they flew into the ground with all engines running…  Upon impact the ship exploded in a tremendous fireball high in the air … We were so close, we flew directly through the fireball … After the mission briefing, we learned of one other aircraft lost from our flight … our overall losses (that day were) 25 aircraft out of 240. This was the biggest operation since D-Day and the last major combined effort of the war … this was the most traumatic thing that ever happened to me in all my years of flying. I can never forget what happened even to the last detail."
Ironically, Jack's brother was an infantry lieutenant on the ground and witnessed his brother's plane crash, but did not know it was Jack's aircraft. Kitty learned of her husband's death through her mother-in-law who had been sent the government's notification telegram. At the time, Kitty did not have a permanent address because of the wartime housing shortage.
On May 20, 1945, Kitty gave birth to a little girl (named Lynne Murray Strickland) at the Walter Reed Army Hospital. Jack's best friend, Army Lt. Harold Holland was home on leave. He visited her and brought a dozen red roses to the hospital. He told her that Jack had asked him to bring her the roses if he was not able to be present when their baby was born. Sadly, because of government regulations at the time, Kitty's military benefits were sharply cut off right after her daughter's birth. She began her post-war life on her own as a widow with two young children as did many other young women of the time. In the spirit of the greatest generation, Kitty soldiered on and eventually told her story in her book.
Jack was buried at the military cemetery in Maargarten, Holland at Kitty's request.  He was 22 when he died and Kitty a year younger. Speaking of her late husband in the final pages of her book, Kitty wrote:
"He had known love. He had sired two children. He had realized just who he was and recognized his own strengths and weaknesses. He had found his God … He had lived his life with integrity and kindness and he thoroughly believed in the cause for which he gave his life … I believe he had done what God put him here to do…"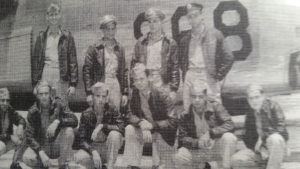 Kitty remarried in 1950 to Navy veteran Francis "Frank" Shore, 11 years her senior. Frank had served in the war as an officer aboard the destroyer USS Barton. At the time, he had a young son about the same age as Kitty's. Together they had three more children and, eventually, a total of fourteen grandchildren. Frank died in 1987. Kitty had the opportunity to visit England shortly before she wrote her book in 1998 (a project she undertook at the request of her children). With one of her adult granddaughters, she visited Tibenham and saw the remains of her late husband's wartime landing field.
She ended her book with these words:
"In my mind I saw the young American airmen rushing to the B-24s that were lined up on the runways, ready to start another mission. I could picture Jack, sitting in the cockpit, checking instruments, his mind on the job that lay ahead. As he glanced out the window he saw exactly what I was seeing then. I felt his presence and had the distinct impression that, at that moment, he was watching his granddaughter and me and was pleased."
On April 25th, Jack's outfit, less than a month after the Operation Varsity mission, the 445th flew their 280th and last mission of the war. With the surrender of Germany on May 7th, 1945, everyone's thought turned to going home.  Some would continue the fight in the Pacific while others would return home to friends and family.  The 445th flew a total of 70 missions in 1945. Unit histories and personal accounts consistently record the mission in Operation Varsity as the worst of them all.
We were honored to have Tom Campbell as a fellow Varnum Continental and mourned his passing in August of last year. Following World War II, Tom had continued to serve his country in the Air Reserve and Air Guard, retiring in 1977 with the rank of Lt. Colonel. His family recently graciously donated numerous pieces of Tom's military memorabilia to the Varnum Memorial Armory Museum.
---
Join the Varnum Continentals for $50!
At only $50 per person annually, membership keeps you in the Varnum loop and supports our efforts to preserve U.S. history and educate the public. Members get a monthly newsletter and can also attend our monthly dinner programs that feature authoritative and engaging speakers on historic and military topics. CLICK HERE TO JOIN NOW!
---
---
Make a Donation!
We're a private nonprofit organization receiving no state or federal funding. We depend on your donations to support out valuable work to preserve U.S. history and support our two museums. MAKE A DONATION TODAY!
---