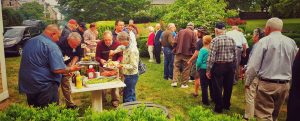 The June 12th Varnum Continentals members' meeting will be held on the grounds of the Varnum House Museum. It's a chance to kick back, enjoy the gardens, and socialize with your fellow Varnum Continentals.  Burgers, hot dogs, BBQ grilled chicken and all the staples of a summer cook-out will be served, plus a choice of beverages.
As a special treat, the June dinner meeting will feature tours of the 1773 Varnum House Museum.  These tours will feature docents, in colonial dress, leading tours of James Mitchell Varnum's historic home.
As always, your guests are welcome. The event is rain or shine; we have tents.
TIME: Monday, June 12 from 5:30 pm – 8 pm
PLACE: Varnum House Museum, 57 Peirce Street, East Greenwich, RI
FEE: $10 (soft drinks, beer, and wine included)
PLEASE NOTE:  This will be our last meeting until September (no members' meetings in July and August).
Reservations must be received by 5 pm Friday, June 9.  Call Scott Seaback at 401-413-6277 or email him at scott@ritemps.com.
---
Join the Varnum Continentals for $50!
At only $50 per person annually, membership keeps you in the Varnum loop and supports our efforts to preserve U.S. history and educate the public. Members get a monthly newsletter and can also attend our monthly dinner programs that feature authoritative and engaging speakers on historic and military topics. CLICK HERE TO JOIN NOW!
---
---
Make a Donation!
We're a private nonprofit organization receiving no state or federal funding. We depend on your donations to support out valuable work to preserve U.S. history and support our two museums. MAKE A DONATION TODAY!
---