Our December 11 Varnum Member Dinner Meeting will feature a discussion by the author of "The Last Muster", a remarkable two-volume book (Amazon.com: Volume I || Volume II) by internationally known expert of photographic history, Maureen Taylor. Clients from around the world have sought her expertise in historic photograph identification, photo preservation, and family history research.
This publication is a remarkable collection of images of the Revolutionary War generation (more details at The Last Muster Project page). Photography was in its infancy in the early 19th century and a number of images of men who fought in the War of Independence were captured on daguerreotypes, ambrotypes, and carte des visites paper. Maureen has assembled more than 100 of these historic treasures. Her pioneering work in historic photo research is unprecedented, evidenced by her success in solving photo mysteries. The author of several books, scholarly articles, and online columns, she has appeared on ABC's The View and The Today Show on NBC. She has been featured in numerous publications including The Boston Globe, The New York Times, and Better Homes and Gardens. The Wall Street Journal has dubbed Maureen as "the nation's foremost historical photo detective."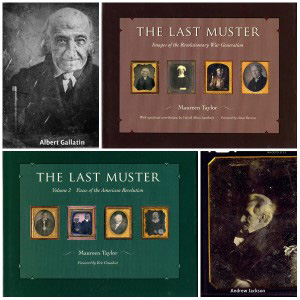 She is a sought-after speaker at historical and genealogical societies, museums, conferences, libraries, and other organizations across the U.S. and in London and Canada. Are there still more photos of Revolutionary War veterans still out there? Could be. Don't miss this unique program as Maureen shares with us anecdotes about her work as a photo detective.
Reservations must be received by 5:00 pm Friday, December 8. Call Scott Seaback at 401-413-6277 or email him at scott@ritemps.com.
TIME: 5:30 pm (social hour); 6:30 pm (dinner followed by program)
LOCATION: Varnum Memorial Armory Museum, 6 Main St, East Greenwich, RI, 02818.
FEE: $20/person including dinner
---
Join the Varnum Continentals for $50!
At only $50 per person annually, membership keeps you in the Varnum loop and supports our efforts to preserve U.S. history and educate the public. Members get a monthly newsletter and can also attend our monthly dinner programs that feature authoritative and engaging speakers on historic and military topics. CLICK HERE TO JOIN NOW!
---
---
Make a Donation!
We're a private nonprofit organization receiving no state or federal funding. We depend on your donations to support out valuable work to preserve U.S. history and support our two museums. MAKE A DONATION TODAY!
---