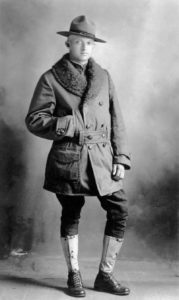 Our speaker this month is Matthew Baldwin McCoy, State Coordinator for the Rhode Island World War I Centennial Commission. Matt will share with us our state's relationship to the national observance and the role the Ocean State played during the war. Rhode Island made a significant contribution, not only in its role as a major manufacturing resource for military supplies, but in terms of the men and women drafted in 1917 who trained at Camp Quonset in North Kingstown, RI, and at the Naval Station Newport, Newport, RI.
Matt will also speak about "Researching Your Doughboy," sharing his personal journey researching one of the "doughboys" in his family tree, tracing the service and sacrifice of his great uncle, Army 1st Lt. George Baldwin McCoy, a member of the 18th Infantry Regiment, 1st Infantry Brigade, 1st Division, in the American Expeditionary Force.
Matthew McCoy, a native of Washington, D.C., enlisted in the Navy in 1980 and served as an Operations Specialist, receiving his officer's commission in 1993. In 2003, he joined Raytheon Integrated Defense Systems as a Principal Systems Engineer. Following Raytheon, he became associated with the Naval War College and currently supports the Hattendorf Center for Marine Historical Research. As State Coordinator for the World War I Centennial Commission, McCoy is involved in numerous activities commemorating our state's role in the war. He is also serving as a National Aide-de-Camp to the Commander-in-Chief of the Veterans of Foreign Wars. Matt and his wife live in North Kingstown, RI.
Come early and view some of the outstanding World War I memorabilia assembled in the Varnum Memorial Armory Museum.
Reservations for this dinner must be received by 5 pm Friday, January 5.
Call Scott Seaback at 401-413-6277 or email him at scott@ritemps.com.
TIME: 5:30 p.m. (social hour); 6:30 p.m. (dinner followed by program)
LOCATION: Varnum Memorial Armory Museum, 6 Main St, East Greenwich, RI, 02818.
FEE: $20 including dinner (steak tips, chicken Marsala, seasonal veggies, baked potato bar, salad, dessert and coffee)
---
Join the Varnum Continentals for $50!
At only $50 per person annually, membership keeps you in the Varnum loop and supports our efforts to preserve U.S. history and educate the public. Members get a monthly newsletter and can also attend our monthly dinner programs that feature authoritative and engaging speakers on historic and military topics. CLICK HERE TO JOIN NOW!
---
---
Make a Donation!
We're a private nonprofit organization receiving no state or federal funding. We depend on your donations to support out valuable work to preserve U.S. history and support our two museums. MAKE A DONATION TODAY!
---