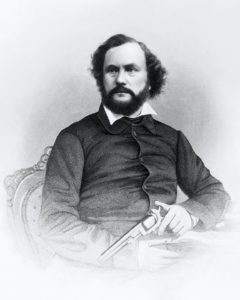 Until the 19th century was well along, handguns were limited to single-shot weapons. In 1836, a 22-year old Hartford, Connecticut man, Samuel Colt, came up with a concept for controlled rotation of a firearm that would allow multiple rounds to be fired without reloading. Colt, the son of a textile manufacturer, developed a fascination for mechanical devices while visiting his father's mill.  After being expelled from Amherst Academy for high-jinx involving a fire at the school, Colt went to sea to study navigation.
It was during his time on the water that he had an epiphany watching the helmsman spin the ship's wheel. He made a wooden cylinder, locking pin, and hammer and determined that this could be rotated to allow a pistol to fire multiple times. On return from his ocean adventures, Samuel's father financed his initial business ventures, but pulled the plug after his son's initial failures. Colt then traveled around the U.S. and Canada demonstrating the use of nitrous oxide and providing fireworks shows. Eventually, he earned enough money as a showman to hire some experienced gunsmiths and to put his innovative ideas into a finished product. On February 25, 1836, he received a patent for a revolving cylinder pistol that, according to the documentation, enabled improved "facility in loading", gave more stability to the user through "the weight and location of the cylinder," and enhanced "rapidity in the succession of discharges."
With that, Samuel Colt was on his way to lasting fame. But, the journey would take a few twists along the way. In 1836, with more financial help from his father, Colt opened Colt's Patent Arms Manufacturing Company in Paterson, New Jersey and began turning out handguns and rifles, all incorporating the revolving cylinder concept. He failed at gaining a government contract for his weapons, deemed too advanced for the time. Although he did manage some sales, Colt was forced to give up control of the company when it went into financial distress.
The Mexican-American War proved to be Colt's turning point. He was awarded a government contract for 1,000 revolvers and 200 thousand rounds of a tinfoil ammunition cartridge he had perfected. He had returned to his native Hartford, CT, and by 1855 built a new factory on the banks of the Connecticut River. The building still stands as a national historic landmark.
Under the management of an exceptionally talented engineer, Elisha K. Root, Colt's company developed a means to produce interchangeable parts for its weapons, greatly increasing their attractiveness to buyers here and overseas. Soon, the Hartford plant was turning out 150 weapons a day. Around this time, the winds of war were blowing stronger by the day. Colt had been doing business south of the Mason-Dixon Line, but when war broke out in April of 1861, he immediately turned his attention to the needs of the Union forces. One of the wealthiest men in America by that time, Colt outfitted an entire volunteer regiment from his home state, the 1St Regiment Colt's Revolving Rifles of Connecticut (and along the way was commissioned a colonel, a rank that he greatly prized).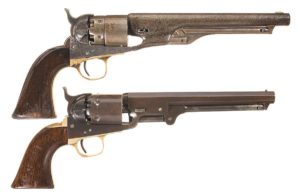 Among the most popular of his revolvers were two mainstays of the Union military, the .36 caliber Model 1851 Navy revolver with its familiar octagonal barrel (replaced by a round barrel version in 1861) and the famed .44 caliber Model 1860 Army revolver. The Varnum Memorial Armory Museum has a fine example of the latter weapon.  The Model 1851 was used by both the Army and Navy and a fair number wound up in the hands of the Confederacy, either purchased before the war, carried by men who took their weapons with them when they switched their allegiance from North to South or captured during battle. Incidentally, according to American Civil War historian and author Rob Grandchamp, Rhode Island's Governor William Sprague gave Col. Zenas Bliss of the 7th Rhode Island Volunteers a Colt Navy pistol, but it was lost during the Battle of Fredericksburg.
For this article, the writer will devote attention to the Model 1860 as it not only played a major role in the American Civil War, but it would eventually evolve into the famed Model 1873 Peacemaker, "the gun that won the West".  The Model 1860 was carried by army infantry, cavalry, and artillerymen as well as by navy men, although officers in both services usually carried smaller sidearms.
Its single-action requires the hammer to be cocked for each firing. The .44 caliber Model 1860 uses the same size frame as the lighter .36 caliber Navy Model 1851. The Model 1860 also has a longer cylinder and a distinctive "creeping" loading lever, using pins that engage notches in the barrel to provide added strength. Colt first introduced this feature in an1855 side hammer revolver.
More than 200-thousand Model 1860s were built between 1860 and 1873, making it the most widely used revolver of the Civil War (a major fire in 1864 put the Hartford factory out of business for the duration although it was returned to service later). The Union Army purchased the bulk of the factory's output (some 129,730 pieces). The Varnum Continental's Model 1860 carries the serial number 111432, indicating that it was made in 1863. Armory Vice President and Museum Curator Patrick Donovan obtained the Colt through Skinner Auctions along with a holster in excellent condition.
The weapon accommodates a 0.454-inch diameter round, spherical lead ball or conical-tipped bullet propelled by a 30-grain black powder charge in a paper cylinder. Soldiers preferred the latter as it could be loaded more rapidly. The paper cartridge and bullet were placed in the front of each chamber and seated with a loading lever ram. A percussion cap was placed onto a raised aperture, a nipple, at the back end of the chamber. Repeat the process five more times and the gun was fully armed.
The small copper percussion cap, when struck by the hammer, ignites the charge. The projectile, depending on the load, has a muzzle velocity of about 900 feet per second with an effective range of 75 to 100 yards.  The Varnum's Model 1860 has walnut grips, although there some were produced with more ornate grips, including ivory. Colt employed talented engravers who would also produce ornate designs on the gun's metal finish. The standard model was unadorned.
The Model 1860's frame did not have a top strap (a strengthening feature placed above the cylinder). Instead, its lower frame and a massive fixed cylinder pin provided the necessary strength. This feature required that the barrel be removed to also remove the cylinder. This concept made the Model 1860 slimmer and lighter than its closest competitor, the Remington Model 1858. Colt's pistol could also be used with a detachable shoulder stock.
When originally produced, the Model 1860 cost approximately $20 per revolver, or in today's valuation, more than $600. This was rather expensive during the 1860s, both for the United States Army and private citizens. Colt was criticized for the price, and by 1865 the revolver was reduced to $14.50. Throughout his life, Colt assertively protected his patents and business interests and was often unfavorably noted for his excessive promotional activities.
Although he was widely recognized as a highly successful industrialist and inventor, Colt would see neither the full fruits of his labors nor the end of the Civil War. On January 10, 1862, at the age of 47, he died of chronic rheumatism (gout) at his Hartford mansion known as Armsmear. He is buried under a massive memorial in Hartford's Cedar Hill Cemetery (also the final resting place of famed Rhode Island aviation pioneer Edson Gallaudet). During Colt's lifetime, his company had turned out more than 400-thousand firearms in a wide variety of styles.  His company went public in 1901 and it gained further worldwide fame with its Model 1911 .45 caliber automatic pistol. The company remains in business today, having produced more than 30 million firearms since it was founded.
###
---
Join the Varnum Continentals for $50!
At only $50 per person annually, membership keeps you in the Varnum loop and supports our efforts to preserve U.S. history and educate the public. Members get a monthly newsletter and can also attend our monthly dinner programs that feature authoritative and engaging speakers on historic and military topics. CLICK HERE TO JOIN NOW!
---
---
Make a Donation!
We're a private nonprofit organization receiving no state or federal funding. We depend on your donations to support out valuable work to preserve U.S. history and support our two museums. MAKE A DONATION TODAY!
---