It's been a while since we sat down with Varnum Continentals Vice President and Varnum House Museum Curator Barbara Weaver. A lot has happened at the historic house on the hill. Thanks to an extensive series of renovations funded through both individual donations and the generosity of charitable foundations, the home of General James Mitchell Varnum and his wife Martha "Patty" (Child) Varnum, the house has been restored virtually to its appearance during the period when the Varnums called it their home.
Recently, we talked with Barbara about the projects she has overseen and what the future holds for the house at 57 Peirce Street.
Varnum News: The Varnum House was designed and constructed by John Reynolds in 1773, considered to be East Greenwich's most important 18th century architect and builder. His design for the General replicated the popular Georgian style of the period. What were some of the key elements he employed? Varnum himself was certainly a well-educated and knowledgeable man of his time. Would he have offered input to Reynolds?
Barbara Weaver: It is quite possible that the house reflected Varnum's personal taste. Reynolds had already built a couple of homes in town: the Eldredge House at the corner of Peirce and Division Streets and the Whitmarsh home at 294 Main Street, also known as the "Brick House". These are known as Georgian style, and were a very common design in the colonial period between 1730 and 1776.
Varnum News: Why did Varnum choose to build the house in its location? There would have been other suitable lots available
Barbara Weaver: The house was built across from the Kent County Courthouse, which was very convenient since Varnum was a prominent lawyer at the courthouse. The building was frequented by the most influential leaders of the colony and was also one of the locations where the colonial general assembly met (the assembly rotated meetings between East Greenwich, Providence, Bristol, Newport, and South Kingstown). He bought the plot from John Peirce for $90.
Varnum News: The house was finished shortly after Varnum left to take part in the Siege of Boston. From that time until he ended his service in the Continental Army, was he able to spend much time in East Greenwich with his wife? She must have been like many other colonial women of the time, left to manage household affairs on her own.
Barbara Weaver: Since the Varnums were prominent and very wealthy, there would have been lots of entertaining. Guests were General George Washington, General Nathanael Greene, Marquis de Lafayette, Comte de Rochambeau, Governor William Greene, and many other prominent dignitaries. Although we don't know exactly when Washington visited, he was in Rhode Island between 1776 and 1781. Lafayette stayed with the Varnum's on at least one occasion and presented them with the beautiful bowl that is displayed in the second-floor bedroom named in honor of the French military leader.
Varnum News: After service to the state and new federal governments, Varnum was appointed a federal judge in the Ohio territory. He left Rhode Island in late 1788 and on the journey west was taken ill. He died in January of 1789 in Marietta, Ohio at the age of 41. Patty Varnum had remained in Rhode Island, not knowing she would never see her husband again. What happened to her after his death?
Barbara Weaver: The Varnums were a very devoted couple from what we know. He wrote her a very tender letter during his military service and we have the letter on display. They never had children. After her husband's death, Martha (Patty) Varnum lived at her sister's home in East Greenwich, RI. She never remarried.  The Varnum name was continued on his brother's side. We have had their descendants visit the house in recent years.
Varnum News: So, take us through the decades up to the 20th century. What happened to the Varnum House? Through whose ownership did it pass? Were there any major changes during the years?
Barbara Weaver: In 1788, Varnum sold the mansion to the original architect, John Reynolds.  There were at least ten owners after that.  Clark, Brayton, and Bowen were some of the families that owned Varnum's mansion in the 1800s.   The Trimmer brothers — current Varnum Secretary Mark and Varnum Trustee David — are direct descendants of Dr. William Shaw Bowen, and they serve as docents, as well as members of the Varnum Continentals Historic Military Command.
Varnum News: In 1939, then Varnum Continentals Commander Colonel Howard Allen took steps to acquire the Varnum House. What motivated the purchase?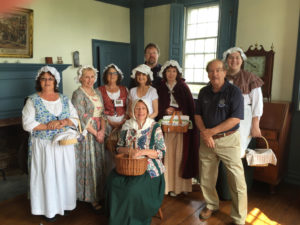 Barbara Weaver: The property had come up for sale that year. Colonel Allen was responsible for saving the mansion from being sold for building lots.  "The Allen Room" on the second floor is named in his memory.
Varnum News: From that time until the turn of the new century, was there any major restoration?
Barbara Weaver: None, to my knowledge. The house was placed on the National Register of Historic Places in 1971 but little was done to improve the property.  Colonel Allen did arrange to have the kitchen remodeled in memory of his wife. Other than that, only general maintenance was done for many years. You can imagine that a house as old as this requires considerable care.
Varnum News: Recognizing the importance of preserving the House and its history, you and your husband have undertaken and organized a renovation program at the house. Take us through that, please.
Barbara Weaver:  In 2015, I became a Vice President of the Varnum Continentals and Curator of The Varnum House Museum. I began doing a thorough cleaning and polishing of the rooms and hallways.  Next, my husband Bill, who is also a member of the Varnum Board of Trustees, reviewed every room and the grounds to see what was needed. It seemed that everywhere we looked something needed attention. We identified some key areas of concern. Both the house and carriage house required a complete exterior paint job. The two massive chimneys needed repointing. The second-floor ceilings were in dire condition, with some debris actually coming down. We also continued the renovation of the windows and shutters. Being a historic building, all this work had to be done by tradesmen experienced in such projects. Needless to say, this was an expensive undertaking.
After identifying the importance, Bill and I created a plan and identified a two-year initiative (Editor's Note: the Varnum Board was simultaneously addressing capital improvements at both the Varnum Memorial Armory and the Varnum House during this period). In the first year, we turned to the Champlin Foundation, who had been generous in the past. We applied for a grant of $69,585 to make the first in a series of critical repairs and upgrades.  It was approved and these projects were completed. We were also delighted to receive a number of individual donations in support of small restoration projects.
Along the way, the Varnum trustees and members also pitched in with yearly cleanups of the grounds.   Speaking of the grounds, I would be remiss if I did not take special note of and express our sincere gratitude for the commitment of the URI Master Gardeners program. Over the past several years, they created and still maintain a colonial garden.
The following year, we returned to the Champlin Foundation and they generously responded with a grant of $ 101,745. This has enabled us to restore the circa 1850's wallpaper,  hand painted in China and installed in the early  1900's in the massive first floor hallway. We have also painted the exterior of the circa 1800 Carriage House at the rear of the property. Our window restoration was also completed under the most recent grant along with the repair of the massive stone wall that surrounds the grounds, which will be completed in the next few months .
At this point, sweat equity deserves a mention. We took furniture out of all the rooms to polish the floors and then polished all the furniture before it was returned to the rooms.  Bill and I personally painted several of the rooms. Our docents have also generously stepped up to help, as this was a massive job in itself. Incidentally, I have to add here that I don't know what we would do without my husband's generous dedication of his time and talents. No matter what I ask of Bill, he always steps up to the challenge.
Varnum News: During the renovations, did you experience and surprises? Any significant finds?
Barbara Weaver:  Yes, we found that many unexpected repairs were needed throughout the entire building. That is where "Yankee Ingenuity" came in handy with Bill's knowledge of mechanical and structural skills. Having been involved in three other museums, I have a knowledge of period decoration and was able to draw upon that in putting the rooms back into shape.
Varnum News: As you look at the house today, what are the elements of which you are most proud to share with visitors?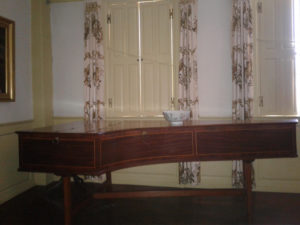 Barbara Weaver: We are different from so-called "farmhouse" museums in that we have so many very fancy items that would be found in a well-to-do household of this period.  These include the "Lafayette bowl", the circa 1850's wallpaper (which is a treasure in itself) and a 1797 William Frecker mahogany pianoforte. That instrument is one of only a few existent examples. We also have on display a portrait of Joseph Bradley Varnum (the General's brother) and portraits of Amy Varnum, (great granddaughter of J.B. Varnum).  One very special item is a miniature portrait of Patty Varnum, believed to be the only image of its kind.
Varnum News: You speak of the Varnum House Museum docents with special pride and affection.
Barbara Weaver: Oh, absolutely! Volunteers are the heartbeat of a non-profit organization in any capacity. However, docents, especially our talented and dedicated team, are a treasure. Without them we could not have accomplished all that we have. You usually think of docents as guides. But, our team generously pitches in with cleaning and polishing the rooms. They are available for special events to bring the house and its contents to life for guests. They provide tours to school groups and others. We are fortunate to be able to open the house for regular visiting hours during the summer with the presence of our docents. They dress in reproduction colonial garb, which adds a flair to the tour. In the museum field, we often speak of "keeping history alive". Our docents are the epitome of that commitment. Using an instructional docents guide developed for the purpose, they have become extremely knowledgeable of the museum house, its contents as well as General Varnum's life and career.
I have been a member of the Varnum Continentals for some 15 years now. As I mentioned, I worked in three other museums and am knowledgeable of museum workings.  Through my activities with the Daughters of the American Revolution over the years, I visited historical sites and attended programs on American history. (Editor's Note: Barbara has also served as RI State Regent of the DAR). What the Varnum House Museum has that makes it so special is our large and truly dedicated team of docents.
Varnum News: It is said that the preservation of a major historic treasure like the Varnum House is an ongoing process. Do you have any special things you would like to see in the immediate future?
Barbara Weaver:  Oh, yes. I have a list. Of course, I am always adding to it. For example, I would like to acquire appropriate framing for the many portraits on the second-floor hallway and also add interpretive signage for the grounds at the museum.
Varnum News: If James Mitchell Varnum and his wife were to return to the house, do you think would they feel in familiar surroundings? What would you say to them as they entered their former home?
Barbara Weaver:  Yes, I think they would feel like they were home as we have tried to restore and now preserve the house as close to the original mansion as possible. I am so honored and privileged to act as Curator of this historic gem. We owe a great debt of thanks to the late Colonel H.V. Allen whose foresight made it possible for the building to be acquired for the benefit and enjoyment of future generations. If the General and Mrs. Varnum were to walk through the front door, I would love to be able to say, "Welcome home. My team and I have tried to make your beautiful home as comfortable and as much like it as it was when you lived here."
Varnum members are encouraged to make the community aware of the Varnum House operating schedule. Group tours are available by appointment in June and September. Summer hours for visitors in July and August are Sundays from 1:00 to 3:00 pm.
Be sure to mark your calendar for the Varnum House Museum Colonial Yuletide to be held Saturday, December 7, 2019 from 4:00 to 8:00 pm.
The House and grounds are available for special event rentals such as weddings and receptions. For more information, contact: house@varnumcontinentals.org or call 401-884-1776.
---
Join the Varnum Continentals for $50!
At only $50 per person annually, membership keeps you in the Varnum loop and supports our efforts to preserve U.S. history and educate the public. Members get a monthly newsletter and can also attend our monthly dinner programs that feature authoritative and engaging speakers on historic and military topics. CLICK HERE TO JOIN NOW!
---
---
Make a Donation!
We're a private nonprofit organization receiving no state or federal funding. We depend on your donations to support out valuable work to preserve U.S. history and support our two museums. MAKE A DONATION TODAY!
---