On December 17, 2021, we marked the 273rd birthday of General James Mitchell Varnum. One of George Washington's most trusted officers during the American Revolution, he achieved a remarkable career before his untimely passing. One of his inspired accomplishments was the establishment of a then unique military unit, the 1st Rhode Island Regiment. On February 9, 2022, Rhode Island's congressional delegation, joined by a number of congressmen and senators from both parties, introduced legislation (H.R.6660/S.3607) to award a posthumous Congressional Gold Medal (CGM) honoring the First Rhode Island. The regiment would become known as Varnum's Continentals from which we take our name as a historic state militia.
In introducing the legislation in the House, Congressman David Cicilline noted "despite their honorable service to our nation, many of those who fought in the First Rhode Island Regiment did not receive the recognition they deserved…many were forced to resist efforts at re-enslavement while at the same time having to fight for back wages from the Rhode Island General Assembly." General Varnum used his influence and legal skills to do all he could to support post-war recognition of the 1st RI veterans.
Senator Sheldon Whitehouse said the bi-partisan legislation "will finally recognize the heroic efforts of the 1st Rhode Island…this long-overdue honor is a small step toward securing their rightful place in the history of our state and of our nation." If approved, the CGM would be presented to the Rhode Island State Library for display, research, and ceremonial purposes. To bring this proposed recognition into perspective, it is helpful to go back in time and follow General Varnum's leadership role during the American Revolution and his innovative creation.
The first shots of the American Revolution echoed down from Lexington and Concord in April of 1775. But the men of East Greenwich, RI, were already prepared to respond. In August of 1774, the Military Independent Company of East Greenwich was organized. The group hired some ex-military men to teach them the rudiments of military science. Twenty-five-year-old James Varnum, who had already gained fame and respect as a skilled lawyer and orator, was placed in charge of the needed financial support. Varnum received formal approval from the colonial General Assembly for the company to function as an official militia unit on October 24, 1774, and the group took the name "Kentish Guards." They first met at the Allen Tavern, known as the "Bunch of Grapes" and openly drilled in the community to attract new recruits (today, the tavern's site on Main Street is occupied by the Greenwich Hotel).
Varnum was elected Captain (later advanced to Colonel by the General Assembly), Richard Fry as First Lieutenant, Christopher Greene as Second Lieutenant and Hopkins Cook as Ensign. Varnum's very close friend, Nathanael Greene, an ardent supporter of the unit, was not chosen as an officer. Some felt it was because a deformity caused him to walk with a slight limp. Greene, who had secretly purchased a musket in Boston, bore no malice and gladly enrolled as a private. During the war, he was to become George Washington's Quartermaster and has been acknowledged by some historians as perhaps the best general of the American Revolution.
On April 22, 1775, the Rhode Island General Assembly created a 1,500-man "Army of Observation" brigade under command of a Brigadier General. Although earlier rejected as officer material by the Kentish Guards, Nathanael Greene was named to the post. Just why he was chosen has remained a mystery for many historians, but history proved the Assembly made a wise decision. Colonel Varnum immediately pledged his full support to his good friend. Varnum was given command of the brigade's 3rd Regiment, comprised of men from Kent and King's (later Washington) Counties. It is from this appointment that Varnum's Regiment dates its history, with seniority from the date of May 3, 1775, in the still existing Rhode Island Militia.
When Varnum's unit was taken into the Continental Army, it became the 12th Continentals or simply, Varnum's Continentals. Under overall command of Nathanael Greene, the Rhode Islanders took part in the Siege of Boston between July and December of 1775. At that point, their initial period of enlistment ended. In response to strong requests from Generals Washington and Greene, however, most of the men remained with the Continental forces, joining the 9th Continentals, remaining under Varnum's command.
The regiment marched to New York where they took part in fighting through the summer of 1776. Varnum had hoped to be promoted to Brigadier General and lobbied for the rank. For mostly political reasons, his advancement was not forthcoming. His complaints to Washington went unanswered and in December Varnum made good on repeated threats to resign and returned to Rhode Island. His regiment remained with the Continental Army and fought well at the Battles of Trenton and Patterson in New Jersey. In January of 1777, Col. Christopher Greene became commander of the 1st Rhode Island. (the unit was later merged into the 2nd RI, Continental Line, created from Varnum's disbanded 9th Continentals). It would be reconstituted as the 1st Rhode Island, or the "Black Regiment" in the spring of 1778. Greene would essentially remain in overall command until he was killed in 1781.
The British, with support from Hessian troops, had occupied Newport in late 1776 and burned the town of Jamestown in December of that year. Over the next couple of years, their suppression of trade and forays against the rest of the colony created significant anger, hardship, and frustration among the populace. The General Assembly called on Governor Nicholas Cooke to raise a brigade of infantry to defend the colony. Varnum was given the rank of Major General and took command of all Rhode Island militia infantry. He briefly remained in that post before being recalled by Washington on February 21, 1777, and promoted to Brigadier General in the Continental Army.
Varnum's troops, like most of the colonial forces at the time, were in bad shape. They were ill paid, ill clothed, ill fed, and ill supplied. His brigade should have numbered 1,200 men in four regiments (two from Rhode Island and two from Connecticut), but only about 600 could be mustered. Varnum and his top officers, Colonels Christopher Greene and Israel Angell, complained to Generals Washington and Nathanael Greene, but the entire Continental Army was in the same poor straits.
In 1777, the British hatched a plan for a major offensive along the Hudson River. Instead, in a confusing state of affairs, British General William Howe decided to occupy Philadelphia, PA, in September of 1777. This led to the Battle of Red Bank, New Jersey with American defenses under General Varnum. In the Varnum Memorial Armory Museum is a letter from Washington to Varnum ordering Colonels Christopher Greene and Israel Angell to come Red Bank as quickly as possible. During the battle, Greene's 400-man force defeated 1,200 Hessian troops at Fort Mercer. The Continental Congress later awarded him a ceremonial sword for personal bravery.
During the winter of 1777-78, American troops, including the Rhode Islanders, survived an arduous winter at Valley Forge. Varnum remained strongly motivated to address the brutal British occupation of Newport and defended his home state's reluctance to provide more troops to the Continental Army given the British presence. It is here that the 1st Rhode Island, the "Black Regiment," was born. Varnum convinced George Washington of the merit of recruiting enslaved Blacks and freedmen as well as Native Americans from Rhode Island into a military unit. Consolidating the 1st and 2nd Rhode Island Regiments at Valley Forge, Colonel Christopher Greene, Lt. Col. Jeremiah Olney, and Major Samuel Ward were sent back to Rhode Island to raise the regiment.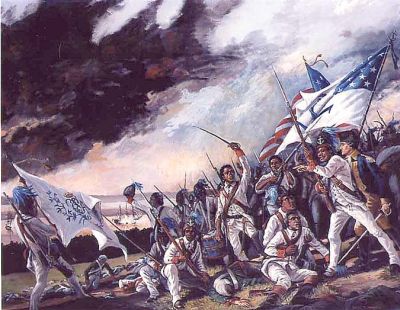 The General Assembly, in spite of vocal opposition by slave owners from the southern part of the state, agreed to the plan in February 1778. By order of the assembly, "every able-bodied negro, mulatto, or Indian man slave that chose to enlist would be freed on their acceptance into the unit and completion of military service." Slave owners were to be compensated by the Rhode Island Assembly who would then be reimbursed by the Continental Congress (or so it was hoped) for the market value of the individual enslaved recruits.
Col. Greene and his fellow officers recruited 225 men, of whom fewer than 140 were slaves or freedmen. The 1st Rhode Island initially became the only regiment of the Continental Army to have segregated companies (some other regiments were integrated). However, even though the 1st Rhode Island became known as "The Black Regiment," Caucasians were later recruited to fill vacancies and became integrated by necessity.
Following training in East Greenwich, RI, the unit's first engagement was at the Battle of Rhode Island which took place at the northern end of Aquidneck Island in August of 1778 under command of General John Sullivan. For a detailed account of the battle and surrounding events, this writer suggests The RI Bicentennial Foundation's 1980 book "The Rhode Island Campaign of 1778, Inauspicious Dawn of Alliance" by Paul Dearden and Robert Geake's book "From Slaves to Soldiers". Also, take a look at my fellow historian Christian McBurney's  2011 book "The Rhode Island Campaign".
Even though this engagement (the only land battle of the Revolution to be fought in the Ocean State) is considered a defeat for Continental forces, the Black Regiment averted a complete rout. Because weather conditions prevented expected support by newly arrived French naval forces, Sullivan knew he could not press a large confrontation with the well-entrenched enemy forces defending Newport. The American forces were arrayed in three elements. The men of the 1st Rhode Island under Col. Greene held the line against repeated attacks by British and Hessian troops on the west flank.
At one point, the Hessians charged again and again. Historian Samuel Greene Arnold in his 1859 "History of the State of Rhode Island," recounted that the regiment "…distinguished itself in deeds of desperate valor. Posted behind a thicket in the valley, three times they drove back the Hessians, who charged repeatedly down the hill to dislodge them." The Hessian colonel commanding later applied for a transfer, claiming his men would likely shoot him for having caused them so much loss. History loves legend and according to one tale, an unnamed African American artillerist, wounded in the arm, exchanged places with a white soldier telling him, "I've got one arm to fight for my country." As he took up his place, he was shot and killed on the spot. A monument at Patriot's Park in Portsmouth, RI, commemorates the bravery of the men of the 1st Rhode Island, including many black soldiers.
Although Aquidneck Island remained in British hands, Sullivan was able to complete an orderly withdrawal of his 5,000-man force to Bristol and Tiverton (thanks especially to the heroic efforts of Greene's troops). The September 15, 1778, the New Hampshire Gazette reported the retreat made "in perfect order and safety, not leaving behind the smallest article of provision, camp equipage or military stores."
In March 1779, James Mitchell Varnum, for economic reasons, resigned his commission in the Continental Army for the final time, returned to his wife Martha in East Greenwich and resumed his law practice. He did so after making sure that Washington would not be displeased. On his return, he was placed in command of the Rhode Island militia. In October, the British pulled out of Newport and French troops arrived in large numbers in Rhode Island to aid the colonials.
Elements of the 1st Rhode Island Regiment spent time in Rhode Island and in New Jersey before being consolidated with the 2nd Rhode Island, Col. Christopher Greene still commanding. They were sent to defend an area on the northern bank of the Croton River in New York. On May 14, 1781, the British attacked in a lightening raid, According to the July 4, 1781 edition of the American Journal and General Advertiser, the raid killed 14 colonials, wounded 4 (2 later died), and 2 officers and 22 enlisted men were captured. Col. Greene was killed by multiple saber wounds, his body carried off and later discovered mutilated. Some historians consider it an act of revenge by the British for Greene's efforts in commanding Black troops. The Rhode Island Regiment was again reconstituted and placed under the command of Lt. Col. Olney who would retain that post until the unit was disbanded after the war. The regiment took part in the Siege of Yorktown and was present for that last major battle of the Revolution in October of 1781.
Following the end of hostilities, the unit served its final duty in Saratoga until the men were finally discharged on December 25, 1783. White soldiers were granted land and a pension. Black soldiers who had been slaves were granted their freedom, as promised by the Rhode Island General Assembly. Col. Olney formally returned the regiment's colors (they remain today at the Rhode Island State House).
For nine years after Varnum returned to Rhode Island, he and Martha remained in their handsome residence on Peirce Street (Varnum House Museum). The Varnums entertained many notables, including Washington, Lafayette, Rochambeau, and Generals Nathanael Greene and John Sullivan. Varnum served his state in various capacities including twice as a member of the Continental Congress. Although we know Lafayette stayed overnight at Peirce Street, we're not quite sure about Washington. The 1907 Varnum family history "Varnums of Dracutt" (written by James Marshall Varnum) quotes an 1892 article by Dr. William Bowen that says Washington did visit the Varnums in East Greenwich on March 15, 1781 while returning from Boston. Supposedly, he dined and supped with them and even enjoyed an afternoon siesta. But, there is no formal evidence that he spent the night in the house.
James Mitchell Varnum, recognized as an eminent jurist of his time, achieved further fame for his 1786 defense in Trevett v. Weeden. His reasoning on behalf of John Weeden was used by Supreme Court Chief Justice John Marshall in the famed 1803 Marbury v. Madison decision that became the basis of the Court's claim to the power of protecting the Constitution by determining the constitutionality of a legislative act.
In 1787, Varnum was appointed a justice of the Supreme Court of the Northwest Territory in Marietta, Ohio. Varnum died there of consumption on January 9, 1789 less than a month after his 40th birthday. His college classmate, the distinguished physician Solomon Drowne, eulogized Varnum in an oration marking the one-year anniversary of the founding of Marietta, saying "…O Varnum! They name shall not be forgotten, while gratitude and generosity continue to be the characteristics of those inhabiting the country, once thy care. Thy fair name is deeply rooted in our fostering memories…". He was most certainly held in such esteem by the soldiers who served under him in his various commands.
But what of the black veterans? For some time, they received no government pay or pension for their service. This bothered Varnum immensely and he campaigned unsuccessfully on their behalf, as did Col. Olney. In 1794, thirteen of the veterans hired Samuel Emory to present their claims to the War Department in Washington. The Rhode Island General Assembly had previously passed an act to support "paupers, who were formerly slaves and enlisted in the Continental battalions." Local town governments were mandated to provide for the indigent veterans. Most remained in Rhode Island, but some moved onto the 100 acres of bounty land they were promised in New York state or the Ohio territory. In 1818, the veterans of the Black Regiment were finally granted Federal pensions (as were all veterans who could prove their service).
One Black veteran and East Greenwich resident of whom we know a fair amount was Ichabod Northup. Bruce MacGunnigle compiled a biography of Northup for the Rhode Island Genealogical Society's "RI Roots" publication (Ichabod Northrup, "Soldier of the Revolution" and His Descendants by Bruce C. MacGunnigle. Rhode Island Roots 34:3 (Sep 2008) p. 113-132. also 34:4 (Dec 2008) p. 169-188).
Born a slave around 1745, Northup enlisted in the 1st Rhode Island in 1778 and served as a fifer. Northup served honorably and was among those captured at Croton, New York, when Christopher Greene was killed. He spent the remainder of the war as a prisoner of the British. On the basis of some five years of service, he was granted a pension under an Act of Congress effective in 1818. Despite a handicap from a wartime wound, he worked as a laborer in Warwick and East Greenwich and managed to buy a home for his wife and eight children. Their handsome little house at 110 Division Street was occupied by his descendants and by other families of color for many years. When he died in 1821, Northup was given an obituary in the local newspaper (unusual for a black man at the time), which referred to him as a "Soldier in the Revolution".
The pending federal legislation to award the Congressional Gold Medal has been endorsed by the NAACP Providence, the Rhode Island Black Heritage Society (RIBHS), and the Newport County Branch NAACP. Theresa Stokes, Executive Director of the RIBHS noted that the African heritage and indigenous soldiers that comprised the 1st Rhode Island "fought for an earned a newfound sense of pride and determination that would later set the stage to advance freedom and equality for all Americans." General Varnum would have been proud.
Recommended Reading
Christian McBurney, is the editor and publisher of the website "Small State, Big History", the online review of Rhode Island History.
---
Join the Varnum Continentals for $50!
At only $50 per person annually, membership keeps you in the Varnum loop and supports our efforts to preserve U.S. history and educate the public. Members get a monthly newsletter and can also attend our monthly dinner programs that feature authoritative and engaging speakers on historic and military topics. CLICK HERE TO JOIN NOW!
---
---
Make a Donation!
We're a private nonprofit organization receiving no state or federal funding. We depend on your donations to support out valuable work to preserve U.S. history and support our two museums. MAKE A DONATION TODAY!
---