Here's a transcription of our newer exhibits at the Varnum Memorial Armory Museum: George Washington's letter to General James Mitchell Varnum (written on the eve of the Battle of Red Bank, NJ). This item is currently available for viewing.  Just click here to book a tour of the Armory! 
IMAGE OF GEORGE WASHINGTON'S LETTER: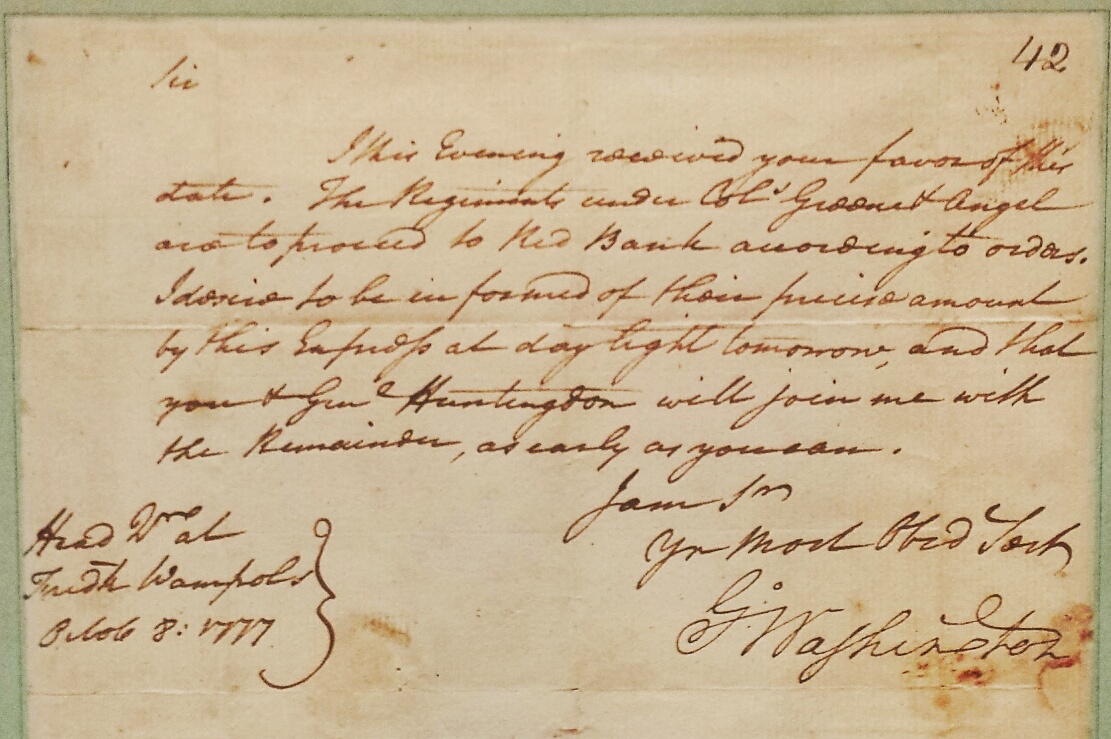 TRANSCRIPTION:
Sir

This Evening received your favor of this date.  The regiments under Cols Greene + Angel are to proceed to Red Bank according to orders.  I desire to be in formed of their precise arrival by this head quarters at day light tomorrow, and that you + Genl Huntington will join me with the remainder, as early as you can.

I am forever your most obed servt
G Washington

Head Quarters
Frederick Wampole
October 8 : 1777
RESEARCH NOTES:
"Col Greene" was RI Christopher Greene.  He was later awarded a special sword in 1780 for his bravery and valor at Red Bank.  The Varnum Continentals have a copy of his written award in the Commander's Office at the Varnum Memorial Armory Museum.
"Frederick Wampole" was a resident of Dotwiler Road, Towamencin Township, PA.  His house served as Washington's headquarters from Oct 8th through the 16th, 1777.  His house was demolished in 1881.  The Continental Army paid him "28.5.4 pounds for expenses".  The correct spelling of his name is Friedrick Wamboldt.
The big question is this: did Washington himself write the whole letter or did he just sign it?  Via looking at a other Washington letters, it appears to be his hand writing, but this would require expert verification.  The signature's penmanship looks different than the letter itself … but a wide discrepancy between prose penmanship and signature penmanship is not unusual.  The pen ink might be different, though; this would also require expert verification.