The Philippine Scouts was a military organization of the United States Army from 1901 until the end of World War II. Made up of Filipino-Americans assigned to the United States Army Philippine Department, Philippine Scout units were given a suffix of (PS), to distinguish them from other U.S. Army units. One of these units, the 26th Cavalry (PS), holds the distinction of being the last American mounted tactical cavalry unit in combat.
On the Bataan Peninsula, the 26th Cavalry (PS) staged a mounted attack against the Japanese on January 16, 1942. It was the last mounted charge in America's military annals, and proved the climax of the 26th Cavalry's magnificent but doomed horseback campaign against the Imperial Japanese Army during the fall of the Philippines in 1941-42.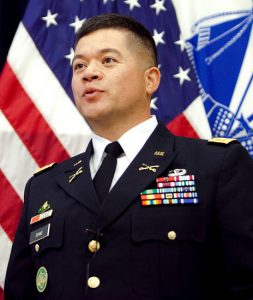 Our speaker, LTC Oscar Diano, will present the dramatic story of this last horse cavalry charge and the history of the Philippine Scouts. Diano joined the National Security Affairs Department of the U.S. Naval War College in 2014. He is a 1994 graduate of The Citadel, The Military College of South Carolina, with a degree in Political Science. His assignments include tours in Texas, Colorado, Germany, Bosnia, Georgia and Kuwait. He has served two tours in Iraq. His last assignment was at the Maneuver Center of Excellence as the Squadron Commander for 2nd Squadron, 16 U.S. Cavalry Regiment (Armor Basic Officer Leaders Course). He recently returned from Operation Inherent Resolve as the Deputy CJ35 (Future Operations). He earned a master's degree from the Command and General Staff College (Fort Leavenworth, KS) in 2007.
DATE: Monday, May 9, 2016
TIME: 5:30 p.m. (social hour); 6:30 p.m. (dinner followed by program)
PLACE: Varnum Memorial Armory Museum, 6 Main St., E. Greenwich, RI.
MENU: Grilled lamb chops, Chicken Francaise, roasted vegetables, rice pilaf, and salad. Coffee & dessert.
FEE: $15/person
RSVP by FRIDAY, May 6, to Scott Seaback at 401-413-6277 or by email scott@ritemps.com.